New York
Wendy Long: Marcellus & Utica Shale Reserves Will Provide Jobs for New York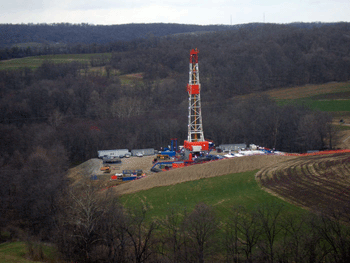 Wendy Long calls on Sen. Gillibrand to support Marcellus & Utica shale drilling, after again touting a bogus jobs bill in Binghamton on Monday.
In the wake of a new study by the U.S. Geological Survey that concludes the availability of 38 trillion cubic feet of natural gas in the Utica Shale deposit, U.S. Senate candidate Wendy Long repeated her call for Sen. Kirsten Gillibrand to make clear her support for the development of hydraulic fracturing in not only the Marcellus shale deposits, but also the Utica shale deposits in New York.
"From Welch Allyn in Skaneateles, to Sikorsky in Big Flats to GM in Honeoye Falls, New York is losing manufacturing jobs and as other states more forward with not only the Marcellus, but also Utica shale drilling, New York sits idle on the issue, because of the celebrity left wing opponents that Sen. Gillibrand is afraid to offend," said Long.
The Marcellus is one of the richest natural gas reserves in the world, and the Utica Shale has even more potential.  Neighbors to New York, including Pennsylvania have already successfully drilled the Marcellus shale for years, have drilled over 100 Utica shale wells currently, and have 452 permits to drill in the Utica deposit moving forward.
"New York needs to get back to work; shale drilling can make that happen.  The lack of Marcellus drilling, but also Utica shale drilling has not only highlighted New York's ability to fall behind other states, but continues to deprive jobs for New Yorkers.  As Sen. Gillibrand parades around New York talking about phony jobs bills she ignores one of the best ways to make that happen," continued Long.
Just yesterday, Senator Gillibrand was in Binghamton and instead of talking about a real job creator, shale gas, she was touting the "America Innovates Act"; another bill with government picking winners and losers with high-tech companies.  The "America Innovates Act" (S.2369) was co-sponsored by Sen. Gillibrand, and like her other phony job bills, was not voted on, and referred to a committee.
"Sen. Gillibrand simply doesn't get it; big government cannot create jobs, only the private sector can.  Instead of touting phony jobs bills and falsely giving New Yorkers hope for new jobs, as they lose their current ones, Sen. Gillibrand should explain to New York why she refuses to support a technology that has put other states to work, and could put New Yorkers to work as well," concluded Long.