New York
Weiner Looking to Thrust Himself Into the NY City Mayoral Race?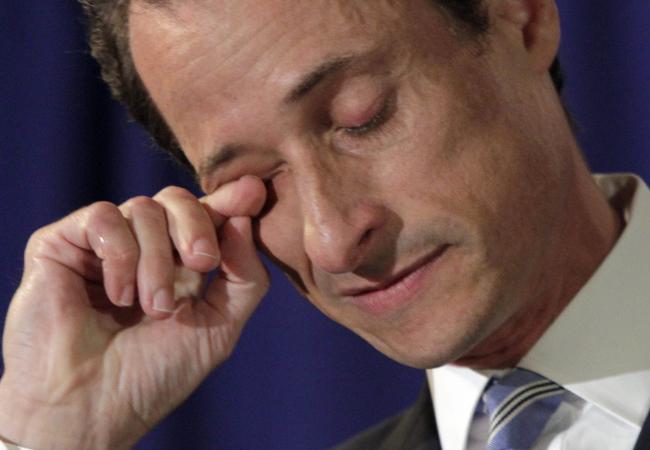 First off, my apologies for that horrible pun in the headline.  But I really only do this stuff to amuse myself, and damn I thought that was pretty funny.
That said, disgraced pol Anthony Weiner, who resigned amidst a Twitter scandal that involved sending pictures of his junk to people that were not his wife, and eventually became known as Weinergate, is eyeing a run at the mayoral race in New York City.
At breakfast, Weiner quickly put all the speculation to rest: he is eyeing the mayor's race.

He told me that his political committee spent more than $100,000 on polling and research by Obama's longtime pollster, David Binder (a detail that would be made public — and prompt a flurry of news reports — in mid-March when a spending report was filed with the city's Campaign Finance Board).

The focus of the poll, Binder says, was the question "Are voters willing to give him a second chance or not, regardless of what race or what contest?"

And the answer?

"There was this sense of 'Yeah, he made a mistake. Let's give him a second chance. But there are conditions on that, and there are a couple of things we're going to want to know: What have you been doing since this incident occurred? Did you learn anything from this mistake? How did you deal with it?' They want to know that they've put it behind them."
Weiner however also concedes that he would be a heavy underdog, because some may not be ready to forgive him for his transgressions. Also, poll numbers.
He adds that he's unsure of when an official decision will be made, citing this indecision as a possible indication that perhaps he shouldn't run after all.
At the end of the day, Weiner's interview with NYT Magazine clarifies nothing in regards to his intentions, but proves that any time he pops up in the media, he makes an interesting topic of conversation.