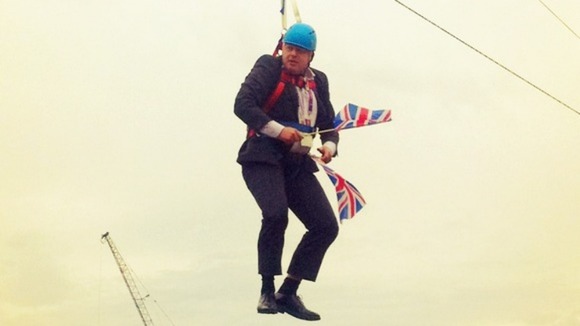 Olympic celebrations took a turn for the worse this afternoon in London when mayor Boris Johnson attempted to gin up excitement by careening down a zip wire whilst waving a pair of Union flags.
Problem being, he never made it to the end of the line, instead dangling above the ground a good 20 meters shy of his destination.
Mr Johnson was featuring as a "special guest" in Victoria Park, London, to ride the zip line, donning a hard hat and two Union flags as he attempted to sail down.

Instead, he ground steadily to a halt on the wire about 20m from the end as the wire sagged, and was left dangling inelegantly in front of a watching crowd.

The Mayor spent around five minutes hanging from the drooping line as spectators took video footage and photographs of his misfortune.

When one asked how he was feeling, he replied "very, very well thank you", before shouting: "Get me a rope, get me a ladder" to bystanders.
Best part of this video (seen below) is the woman asking "Is it a bird?  Is it a plane?…"
Mayor Bloomberg was seen shaking his head and saying, "Man, did that guy look ridiculous or what?"