Uncategorized
Video: Hillary Clinton Falls on the Sword for Obama Administration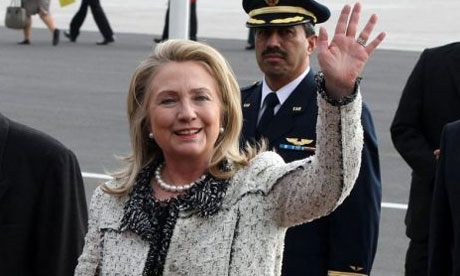 Remember when President Obama was criticizing Mitt Romney about his responsibilities at Bain Capital, even invoking Harry Truman's 'the buck stops here' campaign?
PRESIDENT BARACK OBAMA: Well, here's what I know, we were just talking about responsibility and as president of the United States, it's pretty clear to me that I'm responsible for folks who are working in the federal government and you know, Harry Truman said the buck stops with you.

Now, my understanding is that Mr. Romney attested to the SEC, multiple times, that he was the chairman, CEO and president of Bain Capital and I think most Americans figure if you are the chairman, CEO and president of a company that you are responsible for what that company does.

Ultimately Mr. Romney, I think, is going to have to answer those questions, because if he aspires to being president one of the things you learn is, you are ultimately responsible for the conduct of your operations, but again that's probably a question that he's going to have to answer and I think that's a legitimate part of the campaign.
The buck stops with the President?  He is ultimately responsible for the conduct of his operations?
Apparently that mantra doesn't hold true when it comes to your administration's conduct in dealing with the terrorist attacks in Benghazi.
Today we found out the buck doesn't actually stop with the President, but rather it stops with Hillary Clinton.
Falling on the sword for the administration during a tough re-election bid, Clinton today told a CNN reporter "I take responsibility" for security ahead of the attacks.
Notice consistent use of the phrase 'the buck stops with her'.
This is clearly an attempt to deflect criticism being aimed at the White House ahead of the second Presidential debate scheduled for tomorrow night. 
"This was a purely political move to give Obama breathing room tomorrow night. That's it."
If the State Department had solely been responsible for the lack of security leading up to the attacks, the White House would not have consistently covered up this attack with the fabricated 'spontaneous protest' story.
With the economy being blamed on Bush consistently over the last four years, and now these terror attacks being blamed on Hillary, one has to wonder can anything that happens under this regime be considered Obama's fault?