After railing against their decision to halt a temporary travel ban from six countries with high levels of terrorist activity, President Trump threatened to break up the judicial activists on the "outrageous" 9th Circuit Court of Appeals.
Trump said the court had overstepped it's authority, accusing liberals of perpetually "judge-shopping" for a court that will strike down his executive orders.
"There are many people who want to break up the 9th Circuit," the President opined. "It's outrageous."
His threats come just days after a federal judge – who is a major Obama donor and Democrat fundraiser – blocked an order to withhold federal funding from so-called 'sanctuary' cities. He believes that should he appeal that ruling as well, the 9th Circuit would predictably uphold it.
The President blasted both courts for their decisions …
First the Ninth Circuit rules against the ban & now it hits again on sanctuary cities-both ridiculous rulings. See you in the Supreme Court!

— Donald J. Trump (@realDonaldTrump) April 26, 2017
Via Fox News Insider:
President Trump told the Washington Examiner that he is "absolutely" thinking about breaking up the Ninth Circuit Court of Appeals.

Trump criticized the heavily liberal court that blocked his executive order calling for a Mideast travel ban.

He suggested it would likely uphold the injunction against his withholding of sanctuary cities' federal funds if the Justice Department appeals that ruling.

Trump said that "many people" would support breaking up the "outrageous" bench, adding that he is "absolutely" considering the possibility.
The liberal media naturally mocked the President for asserting he would break up the court.
Trump's gonna break up the 9th circuit the way he sued all those women who accused him of sexual assault.

— Chris Hayes (@chrislhayes) April 26, 2017
CNN even took the time to fact check the President in their chyron, saying "he can't" do what he's proposing: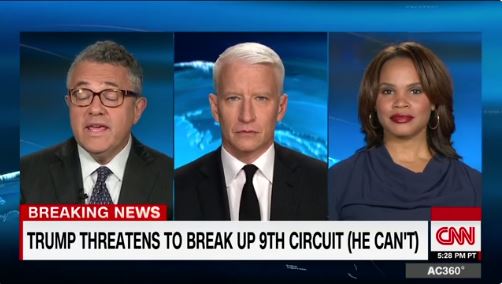 In February however, GOP senators Jeff Flake and John McCain proposed legislation that would do just that. The bill would "carve six states out of the San Francisco-based court circuit and create a brand new 12th Circuit."
And who (we're looking at you CNN) do you think would eventually sign that bill should it come to fruition?
Bill to split 'nutty 9th Circuit' gains momentum https://t.co/CNY9FGm88Q

— Fox News Politics (@foxnewspolitics) February 9, 2017
Such actions are long overdue. Conservatives have openly mocked the 9th Circuit for years, often referring to it as the "9th Circus" in part because so many of its rulings have been overturned by the U.S. Supreme Court.
Eighteen of the court's 25 active judges have been appointed by Democrats.
It's judicial activism run amok and it needs to be stopped, post haste.
Do you support President Trump's plan to break up the "9th Circus?" Share your thoughts with us below.
Read more at the Political Insider