Uncategorized
Report: Number of Able-Bodied Adults on Food Stamps Doubled After Obama Suspended Work Requirements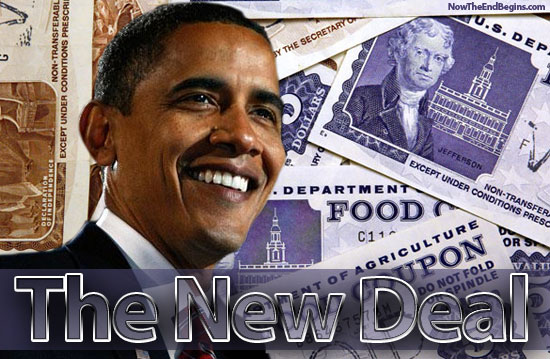 Turns out, accusations that the President has gutted the welfare reform enacted by Bill Clinton and a Republican congress in 1996, is true.
After suspending a work requirement for the eligibility of food stamps, those who collected their government handouts sky-rocketed.
Via the Washington Examiner:
Obama administration officials have insisted that their decision to grant states waivers to redefine work requirements for welfare recipients would not "gut" the landmark 1996 welfare reform law. But a new report from the Congressional Research Service obtained by the Washington Examiner suggests that the administration's suspension of a separate welfare work requirement has already helped explode the number of able-bodied Americans on food stamps.

In addition to the broader work requirement that has become a contentious issue in the presidential race, the 1996 welfare reform law included a separate rule encouraging able-bodied adults without dependents to work by limiting the amount of time they could receive food stamps. President Obama suspended that rule when he signed his economic stimulus legislation into law, and the number of these adults on food stamps doubled, from 1.9 million in 2008 to 3.9 million in 2010, according to the CRS report, issued in the form of a memo to House Majority Leader Eric Cantor, R-Va.

"This report once again confirms that President Obama has severely gutted the welfare work requirements that Americans have overwhelmingly supported since President Clinton signed them into law," Cantor said in an emailed statement. "It's time to reinstate these common-sense measures, and focus on creating job growth for those in need."
In other words, stay home and collect your government welfare check, as opposed to going to work and collecting your paycheck.  This is where the notion that Obama supporters sign the back of checks, while Romney supporters sign the front of checks comes from.
It is also why people refer to Obama as the food stamp President.  This is the 47% of people that Obama panders to, and tries to purchase their votes, and it is the 47% that Romney can't be concerned about when campaigning.
Romney is right.
Individuals who find it more rewarding to collect their welfare checks as opposed to their work checks will never be motivated enough to follow Romney's vision to get America back on the right economic path.