A book titled "Reasons to Vote For Democrats" is flying off the shelves, and the reason will amaze you.
Dubbing itself "A Comprehensive Guide," readers are given an exhaustive and thoroughly researched list of reasons to vote for Democrat lawmakers.
Here's the kicker… The pages within are blank. Empty. As hollow as the principles of the Democrat party itself.
Via the Daily Wire:
Daily Wire Cultural Correspondent Michael Knowles took on his most challenging task to date: compiling all the reasons one should vote for the party of the KKK, Margaret Sanger, slavery and economic illiteracy—also known as the Democrat Party. That challenge, in typical Knowles fashion, was met, and Reasons to Vote for Democrats: A Comprehensive Guide was born.

The book, reflective of the hours upon hours of research Knowles dug into the Democrat Party, is fittingly blank; save chapter titles like "Values," "Civil Rights" and "Economics."

Yes, blank.
Even better – the book is now number 1 on the Amazon best seller list for political humor books.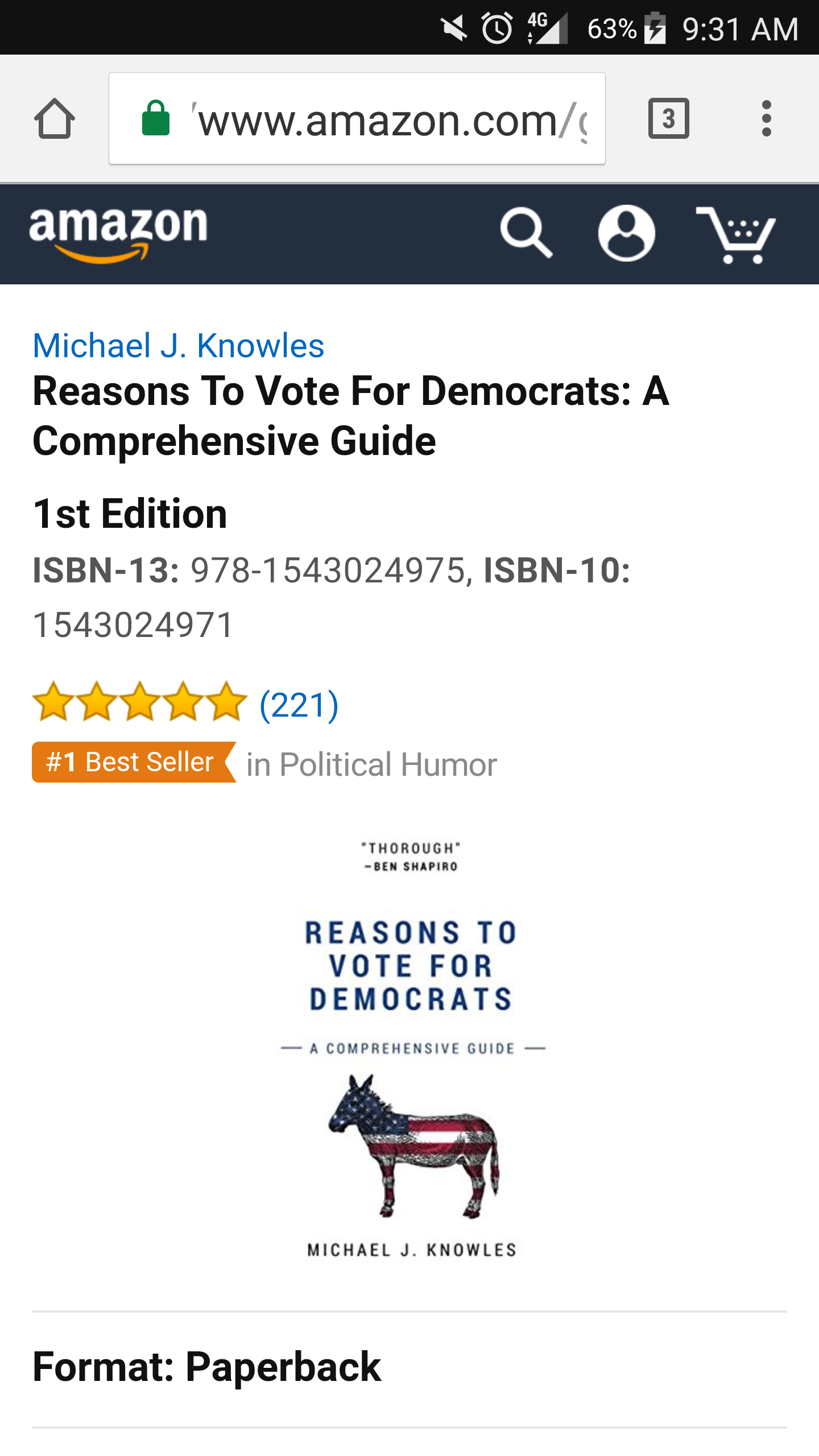 On the overall 'books' chart, "Reasons to Vote for Democrats" is also currently ranked number one.
Either Democrats are buying the book based on the title in an effort to find reasons to justify their decaying party, or Republicans are loving the joke and willing to pass it around to their liberal friends.
Or maybe both.
Either way, positive reviews are pouring in on Amazon, some calling the literary effort "a work of our era" or "a real page turner."
One reader named 'Bernie S.' describes the book as "a winning blueprint for the Democratic party."
"One can only wonder what might have happened had a book of this magnitude been available to the public in early 2016," Bernie adds.
What's really funny is if you scroll down on the reader reviews, you'll see a section labeled 'Sponsored Links.' Two of them appeared when I visited the site:

See that first one?
That's right, the Democratic Senatorial Campaign Committee is advertising on a book that lists zero reasons to ever vote for a Democrat.
Now that is priceless.
Read more at the Political Insider