A middle school student at Edgewood Middle School in Trenton, Ohio was suspended for 10 days for the simple act of 'liking' a photo of a gun on Instagram.
We repeat – the child 'liked' a photo of a gun.
The image of an airsoft gun had the caption "Ready," which the school apparently interpreted as meaning the student was 'ready' to use it.
School officials announced the reason for the suspension was because the student liked "a post on social media that indicated potential school violence."
This as anti-gun absurdity raised to new heights.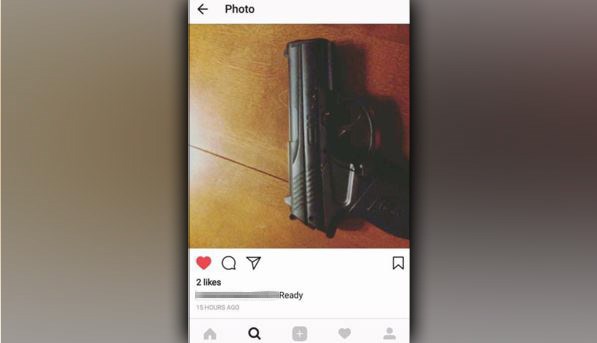 Via WRCB:
Seventh grader Zachary Bowlin received a 10-day suspension from Edgewood Middle School after he liked a photo of an airsoft gun on Instagram. The caption of the photo simply said, "Ready."

"I don't think I did anything wrong," Zachary said. "[The] next morning, they called me down and, like, patted me down and checked me for weapons. Then, they told me I was getting expelled or suspended or whatever."

The note the school sent home to Zachary's parents said that the official cause of his suspension was "liking a post on social media that indicated potential school violence."
Zachary's father wasn't amused.
"I was livid," said Martin Bowlin, adding "He never shared, he never commented, never made a threatening post … [he] just liked it."
https://twitter.com/nixfee/status/861581034852200448
The country has gone crazy.
A "threat" I can understand, but just clicking "Like" is unreal!https://t.co/Fe5PRDlvGu

— ❌Dave #MAGAVeteran❌ (@SasquatchVNV) May 7, 2017
Zachary's suspension can be added to the annals of school administrator overreactions when it comes to school gun policies.
Such ridiculous examples include:
An 8-year-old having a social worker called to disarm him of … a Lego gun.
A 5-year-old boy threatened with suspension from his daycare after making a gun out of Legos and pointing it at other children.
Another boy, a kindergartner in Massachusetts, was given detention for bringing a similarly miniature Lego gun on a school bus.
A 9-year-old threatened with suspension and forced to fill out statements because of a two-inch Lego gun he was playing with in the school cafeteria.
A 5-year-old girl was suspended for 10 days (eventually reduced to two) and ordered to undergo a psychiatric evaluation after saying "I'm going to shoot you and I will shoot myself."  The weapon in question?  A Hello Kitty Bubble Gun.
In Zachary's case, the suspension was lifted after speaking with his parents.
But the superintendent of Edgewood City Schools added, "I assure you that any social media threat will be taken serious, including those who 'like' the post when it potentially endangers the health and safety of students or adversely affects the educational process."
How does a picture of an airsoft gun 'endanger' the safety of students? Do images of World War I or II in their textbooks endanger them? What about muskets during the Revolutionary War? Are those images violent and dangerous?
When the educators have less common sense than the young students they teach, then you know our school systems are in serious peril.
Are you appalled by this student being suspended? Or was it deserved? Share your thoughts below.
Read more at the Political Insider