Throughout his presidential campaign, Donald Trump repeatedly referred to the mainstream media as not only fake news, but a corrupt enterprise unto itself.
Their actions during the campaign, and especially since Trump has taken office, prove he's right.
I am not only fighting Crooked Hillary, I am fighting the dishonest and corrupt media and her government protection process. People get it!

— Donald J. Trump (@realDonaldTrump) August 14, 2016
People certainly do get it. They've been keen to liberal bias in the media for many years now, and this past election season showed they were unwilling to let biased, inaccurate coverage change their views any longer.
If you thought the industry as a whole would learn their lesson after being torn to shreds as corrupt, and worse 'fake,' you'd be wrong.
A new study from the media watchdog NewsBusters shows that mainstream outlets have been reporting negative news about President Trump at an alarming clip.
Negative reporting on the President and his administration has reached nearly 90% of all coverage!
Via NewsBusters:
As President Trump approaches the end of his first 100 days in office, he has received by far the most hostile press treatment of any incoming American president, with the broadcast networks punishing him with coverage that has been 89% negative. The networks largely ignored important national priorities such as jobs and the fight against ISIS, in favor of a news agenda that has been dominated by anti-Trump controversies and which closely matches what would be expected from an opposition party.

For example, President Trump's push to invigorate the economy and bring back American jobs received a mere 18 minutes of coverage (less than one percent of all airtime devoted to the administration), while his moves to renegotiate various international trade deals resulted in less than 10 minutes of TV news airtime.

Eight years ago, in contrast, the broadcast networks rewarded new President Barack Obama with mainly positive spin, and spent hundreds of stories discussing the economic agenda of the incoming liberal administration.
Look at the chart below to help visualize the extreme bias …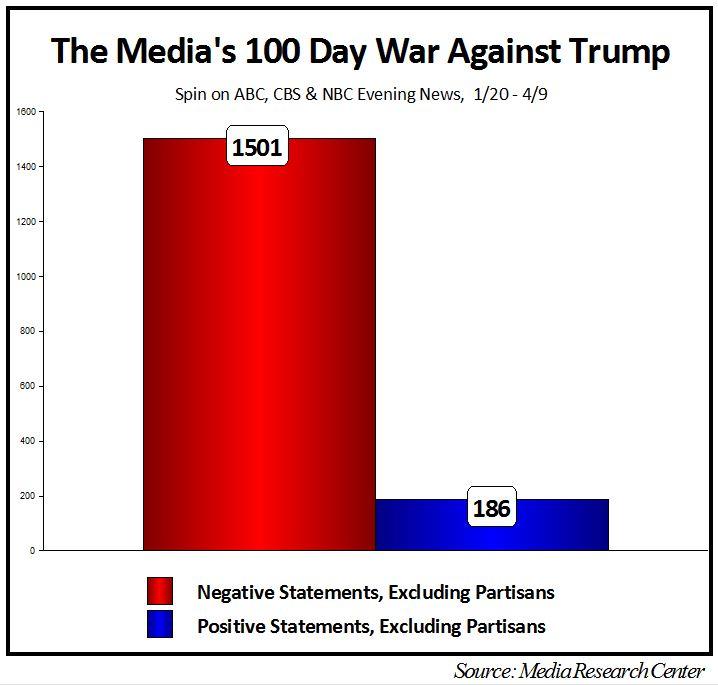 By contrast, the Obama administration enjoyed an extensive honeymoon during the first 100 days of his presidency, with positive stories accounting for 58% of the network coverage.
This despite having his own controversies and scandals – some of which Michelle Malkin covered in this column.
Scandals such as Obama's choice for National Intelligence Council chairman, Charles Freeman, withdrawing because of anti-Israel stances and for being 'a de facto lobbyist for Saudi royalty.'
Or his Commerce Secretary selection, Bill Richardson, withdrawing "after both liberals and conservatives protested his long record of corruption and incompetence."
The media was decidedly soft on Obama, and has been outrageously biased against Trump.
We all knew the corruption was deep, but this study helps us better understand just how much the major news outlets loved former President Obama, and how much they despise President Trump.
What ever happened to an impartial media? Whatever happened to fair and balanced?
Do you think the media has been unfair to President Trump? Share your thoughts below.
Read more at the Political Insider