Uncategorized
Homeland Security Instructing Border Patrol Agents to "Run Away" and "Hide"
Fausta's blog is simply referring to it as "border security for pu**ies".
Fox News has reported that border patrol agents in Arizona are not happy about a new 'Active Shooter' course being provided by the Department of Homeland Security, in which agents are instructed to 'run away and hide' when they encounter an 'active shooter'.
One agent referred to it as 'insulting'.
It's one thing to tell civilian employees to cower under a desk if a gunman starts spraying fire in a confined area, say members of Tucson Local 2544/National Border Patrol Council, but to give armed law enforcement professionals the same advice is downright insulting. The instructions from DHS come in the form of pamphlets and a mandatory computer tutorial.

"We are now taught in an 'Active Shooter' course that if we encounter a shooter in a public place we are to 'run away' and 'hide'" union leader Brandon Judd wrote on the website of 3,300-member union local. "If we are cornered by such a shooter we are to (only as a last resort) become 'aggressive' and 'throw things' at him or her. We are then advised to 'call law enforcement' and wait for their arrival (presumably, while more innocent victims are slaughtered)."
Here is a copy of the pocket guide to border security: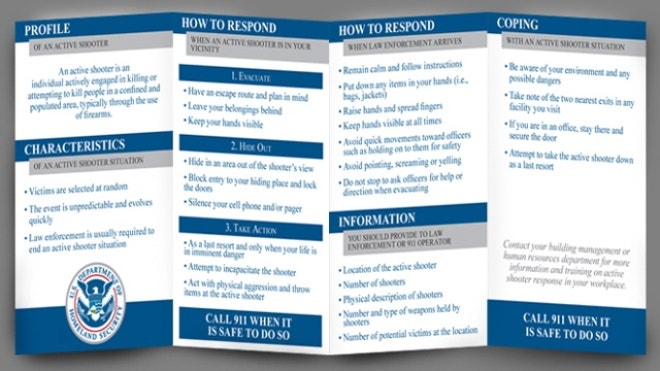 While it is difficult to read, the instructions throughout the pamphlet read like a sad comedy routine.  For example, step three in the 'How to Respond' section states that "when your life is in imminent danger" respond by "throwing items at the active shooter".


How about, blow their head clean off of their body?


Fausta likens it to a Monty Python skit:
Say again? "Attempt to disrupt and/or incapacitate the active shooter"? Whatever happened to shoot to kill?

What's next? Holler at them, "Your mother was a hamster and your father smelt of elder berries"?
It's quite odd that our government has been arming drug cartels at the border with powerful assault weapons,  while simultaneously telling Americans working along the border to throw rocks back at them.