Failed President Barack Obama just will not go away.
Last week it was revealed that Obama is plotting to "oust Trump from the presidency either by forcing his resignation or through his impeachment."
Now we've learned that Obama has been named a John F. Kennedy Library "Profile in Courage" award winner for 2017.
Yes, Barack Obama. A courage award. This guy: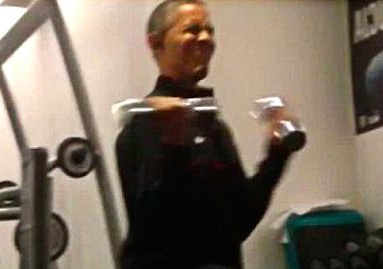 In a press release, the museum announced that such courageous acts as passing Obamacare, restoring ties to a communist dictatorship in Cuba, and the Paris climate agreement were the reasons he won the award.
Incidentally, the "Profile in Courage" award is a lantern patterned after the lanterns on the USS Constitution, a ship named after the very document Obama spent eight years trampling.
Via CNN:
Former President Barack Obama has been named the 2017 "Profile in Courage" award honoree by the John F. Kennedy Library Foundation.

The foundation said Thursday it is recognizing Obama for "expanding health security for millions of Americans, restoring diplomatic relations with Cuba and leading a landmark international accord to combat climate change."

The award, created in 1989, is given to a public official or group of public servants from any level of government each year "whose actions demonstrate the qualities of politically courageous leadership in the spirit of 'Profiles in Courage,' President Kennedy's 1957 Pulitzer prize-winning book," according to the Profile in Courage award website.
The award, which has been won by other former Presidents Gerald Ford and George H.W. Bush, will be handed out in May by Caroline Kennedy, daughter of former President John F. Kennedy, and her son, Jack Schlossberg.
Obama joins civil rights advocates Carl Elliott, John Lewis, and Charles Weltner as an award winner, despite having obliterated race relations in America during his two terms in office.
He also joins other courageous public servants such as the 2002 winners, the Public Servants of September 11.
Guess which one of these men won a "profile in courage" award. #tcot pic.twitter.com/cU0PRkhZgK

— Rusty Weiss 🇺🇸 (@rustyweiss74) March 2, 2017
"President Obama has embodied the definition of courage that my grandfather cites in the opening lines of 'Profiles in Courage': grace under pressure," Schlossberg said in a statement.
"Throughout his two terms in office, he represented all Americans with decency, integrity, and an unshakeable commitment to the greater good," he added.
The greater good. He forced a collapsing healthcare policy on the American people, exploded the national debt, decimated the military, put record numbers of people out of the labor force and onto entitlement programs, and ruined race relations in America.
But it was for the greater good.
Read more at the Political Insider