New York
GOP Congressman Tells Women to Give Their Money to Democrats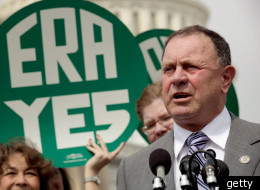 Look, we know it's annoying to be constantly falsely accused of conducting a 'War on Women', but aren't you overcompensating just a touch?
From the Huffington Post:
As the only Republican Congressman at a rally for the Equal Rights Amendment on Thursday, Rep. Richard Hanna (R-N.Y.) gave women an unexpected piece of advice: Give your money to Democrats.
"I think these are very precarious times for women, it seems. So many of your rights are under assault," he told the crowd of mostly women. "I'll tell you this: Contribute your money to people who speak out on your behalf, because the other side — my side — has a lot of it. And you need to send your own message. You need to remind people that you vote, you matter, and that they can't succeed without your help."
Hanna is a pro-choice Republican, making him a pro-abortion, government funded contraception hawk, and thusly a man in the front lines in a 'War on Children'.
You know you've been marching in the lunatic parade when you garner a quote from the Daily Kos.  Kaili Joy Gray, a far-left kook who frequently refers to conservatives as 'tea baggers' had this to say:
"Words I never thought I'd say, but this Republican member of Congress speaks for me."
Congratulations Richard Hanna, you speak for loons, that must make you so proud.
When HuffPost asked Hanna after the rally whether he was bucking his party by encouraging women to give their money to "the other side," he said that he wasn't.
"I'm trying to help [the GOP]," he said. "I think it's the appropriate thing to do."
If your strategy to help the GOP is to feed into the ridiculous fear-mongering being perpetuated by the left, and validating the falsehoods they constantly spew, then yea…