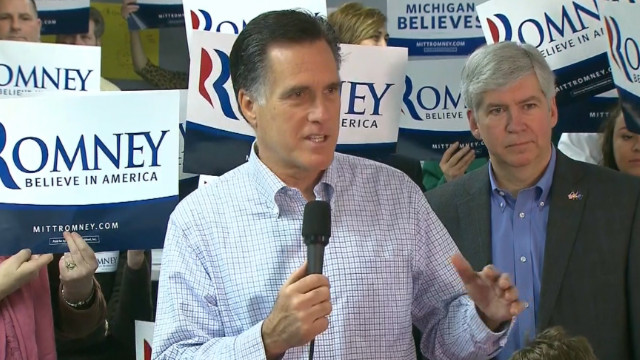 Obama Lite… I mean, Mitt Romney is projected to sweep tonight's primary battles.  Just kidding, Mittens fans.
Via NBC Politics:
Mitt Romney won the Michigan Republican primary on Tuesday, staving off Rick Santorum in the state where Romney was born and raised and avoiding an embarrassing setback for his campaign.
NBC News projected that Romney would win the Michigan primary, along with another primary that took place on Tuesday in Arizona.
Romney and Rick Santorum awaited final results Tuesday evening following a tumultuous three weeks that had both candidates fighting for momentum in the Republican nomination contest.
Most of the attention was focused on Michigan, where the results could prove to be a turning point in the race.
Michigan will result in a splitting of the state's 30 delegates.  CNN reports:
The state's 30 delegates will be allocated on a proportional basis, and Romney and Santorum each won three so far, according to the early returns.
Fox describes it as such:
Romney's victory may not settle those questions, but it prevents a major embarrassment going into Super Tuesday on March 6, when 10 states hold primaries worth hundreds of delegates.
That's Romney in a nutshell.  No convincing victories, just doing enough to stave off embarrassment.